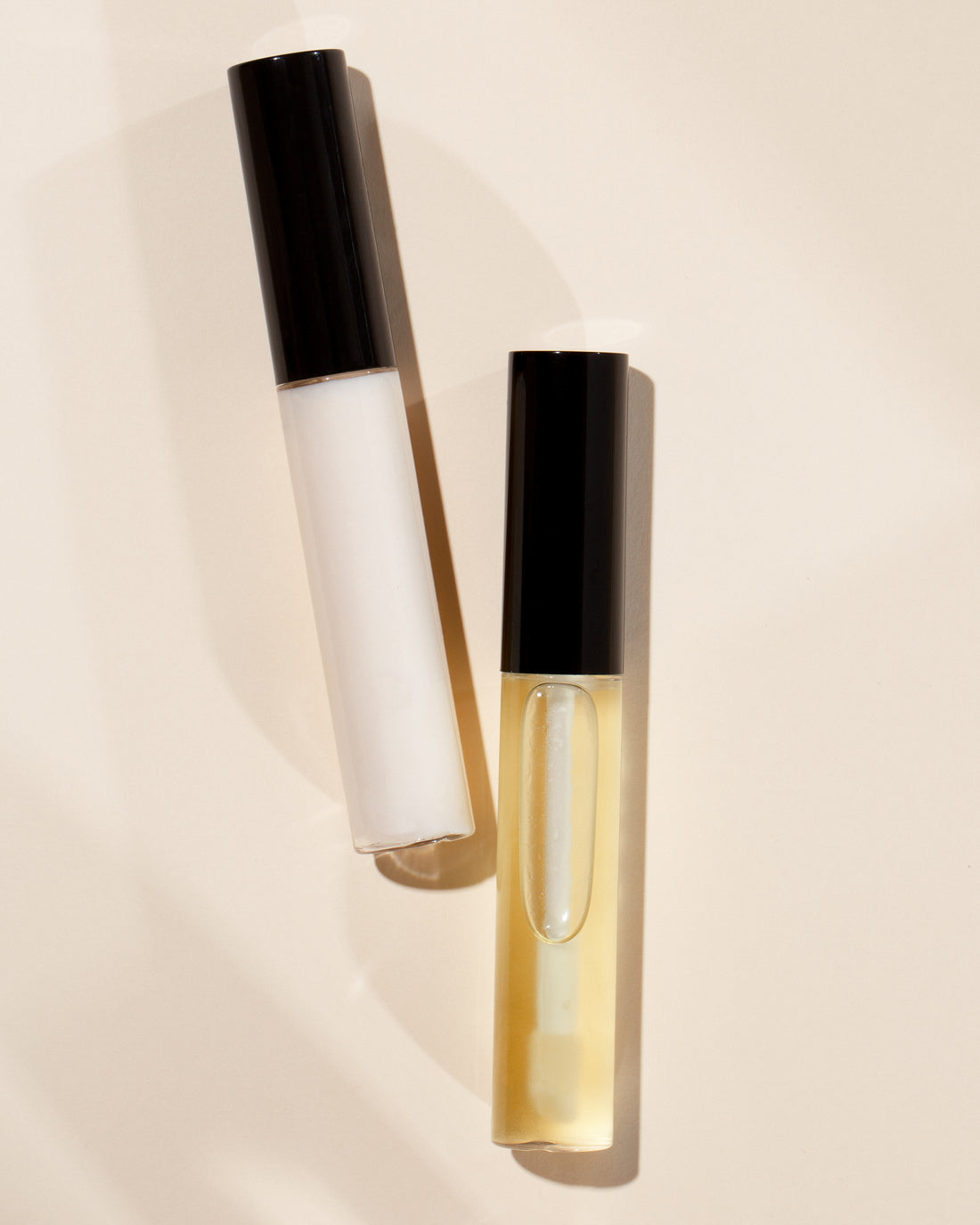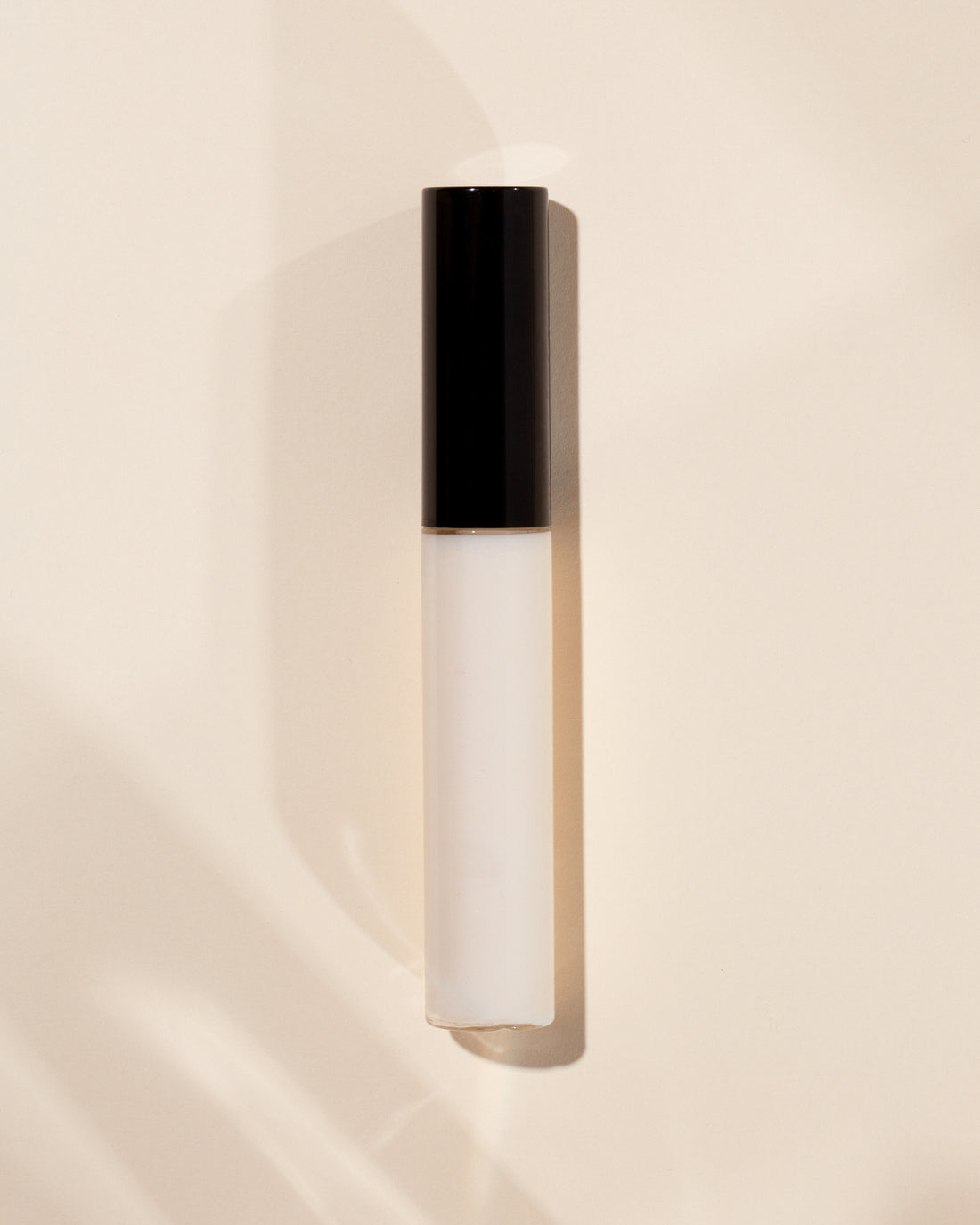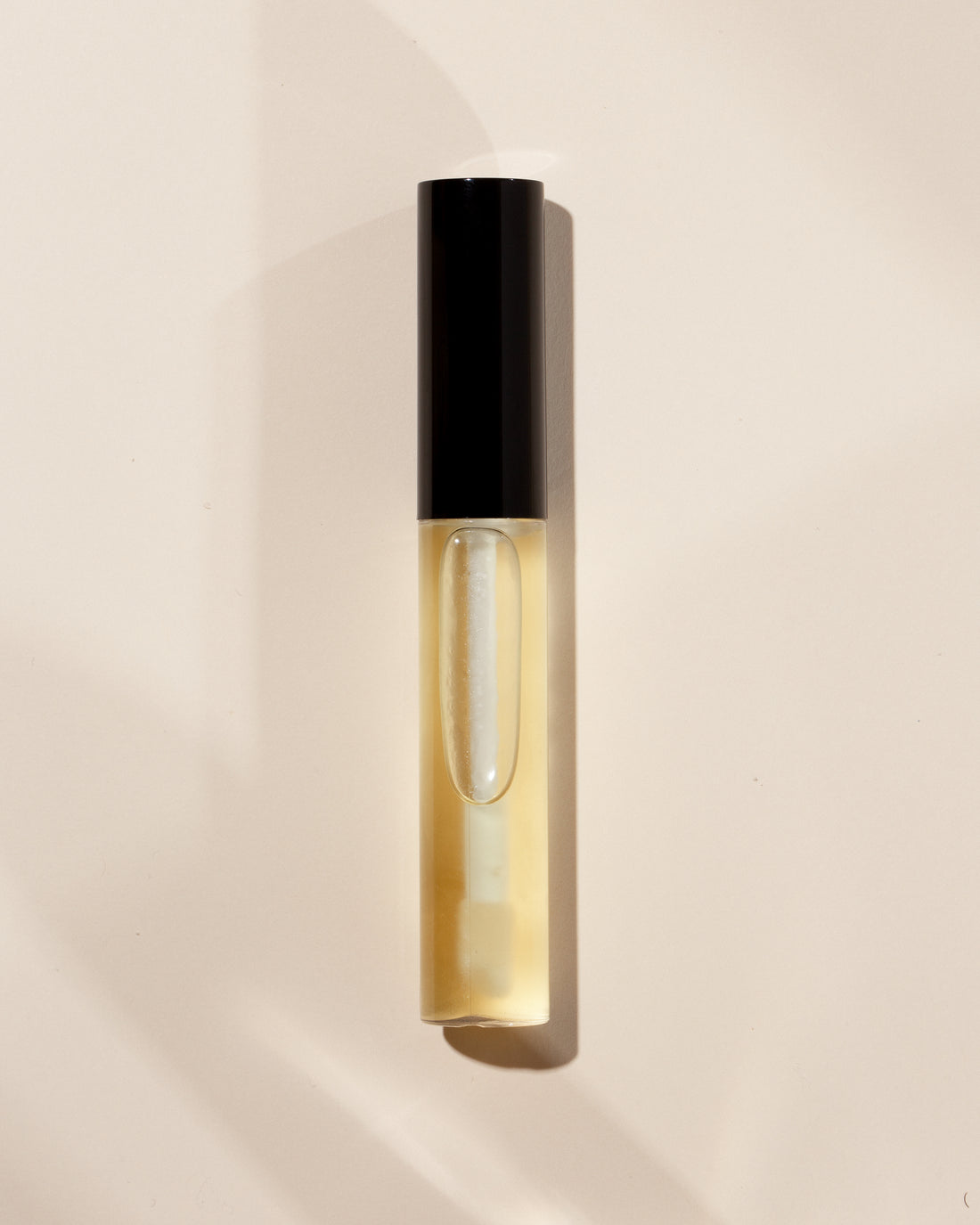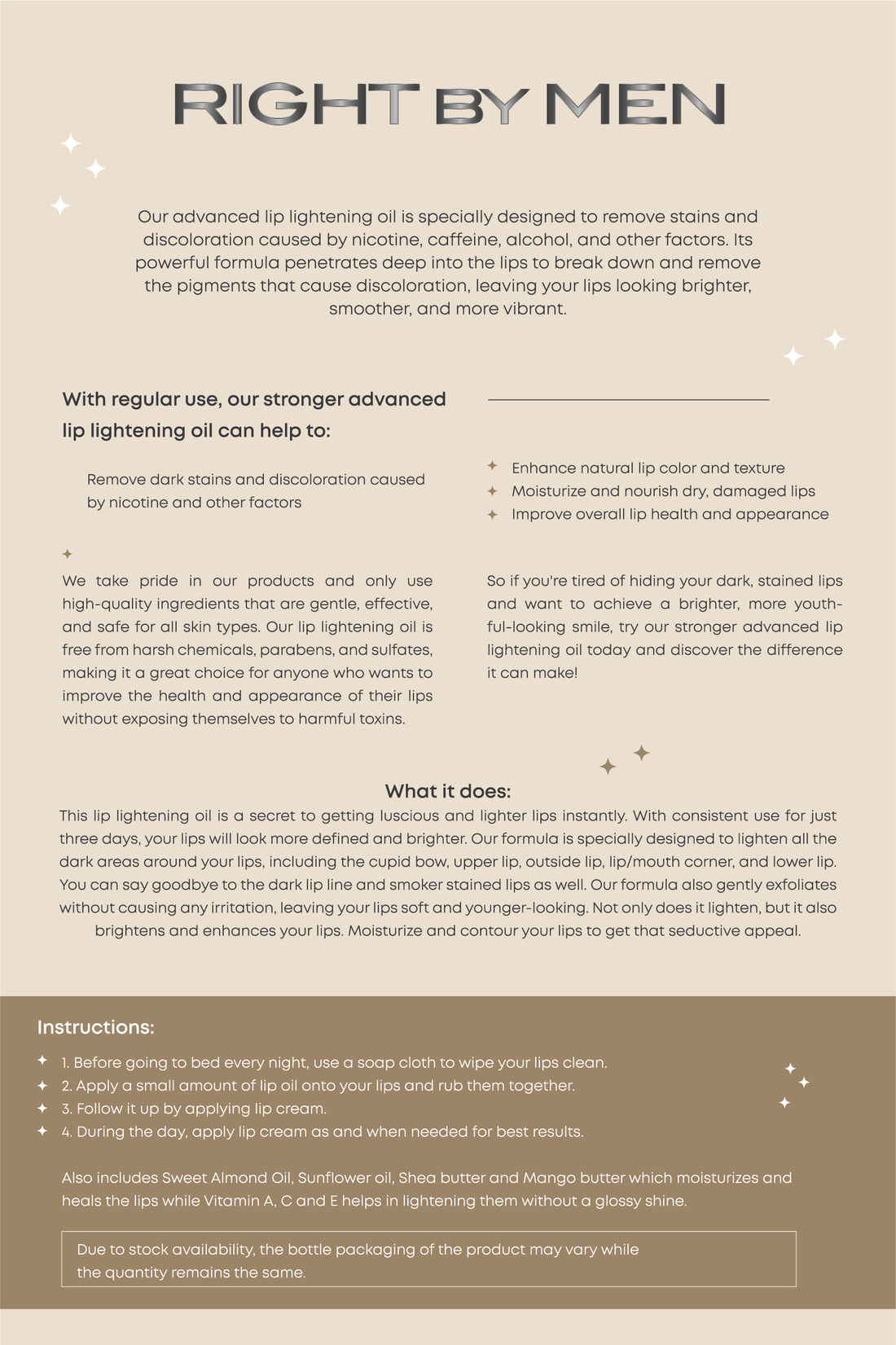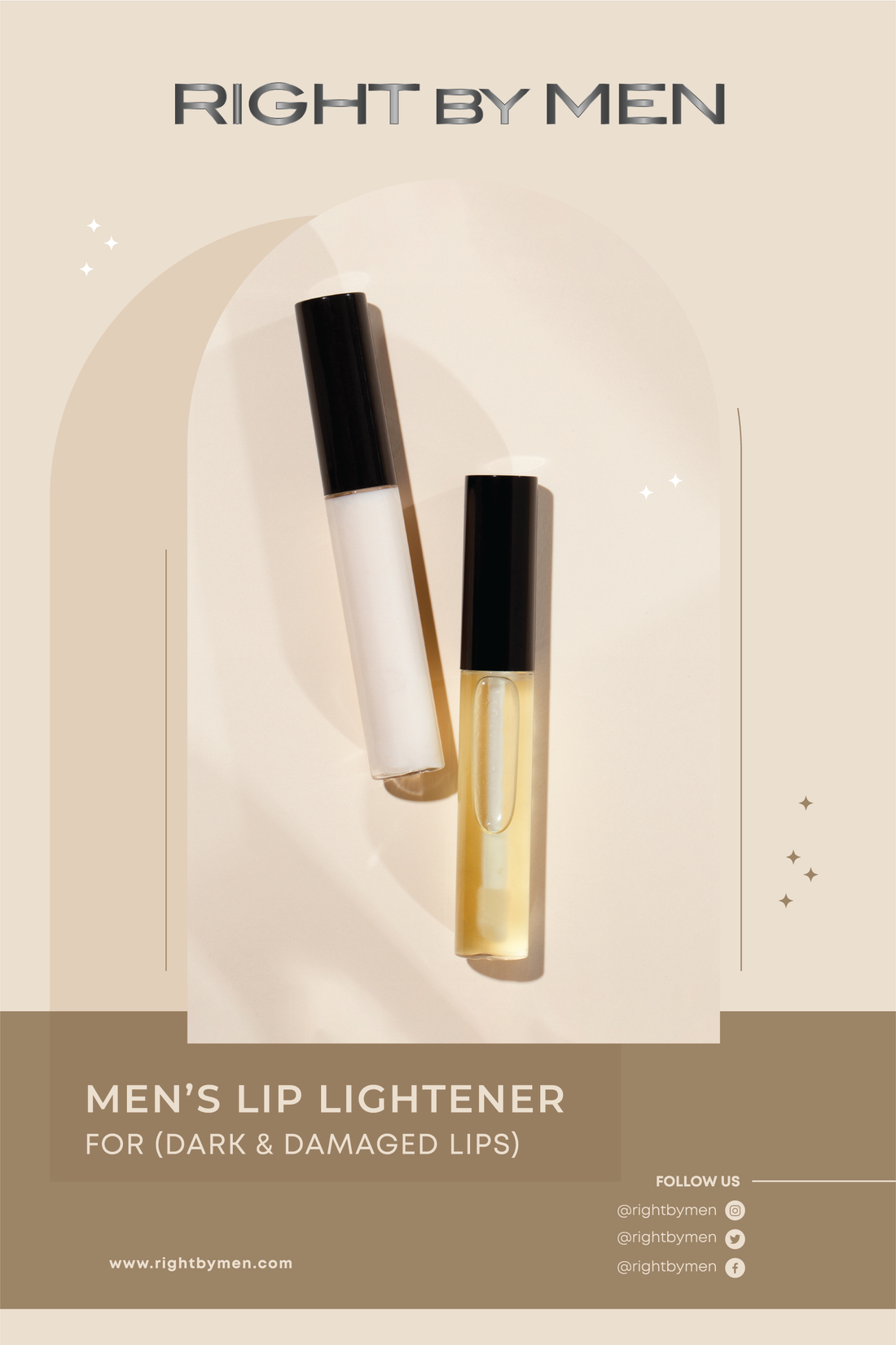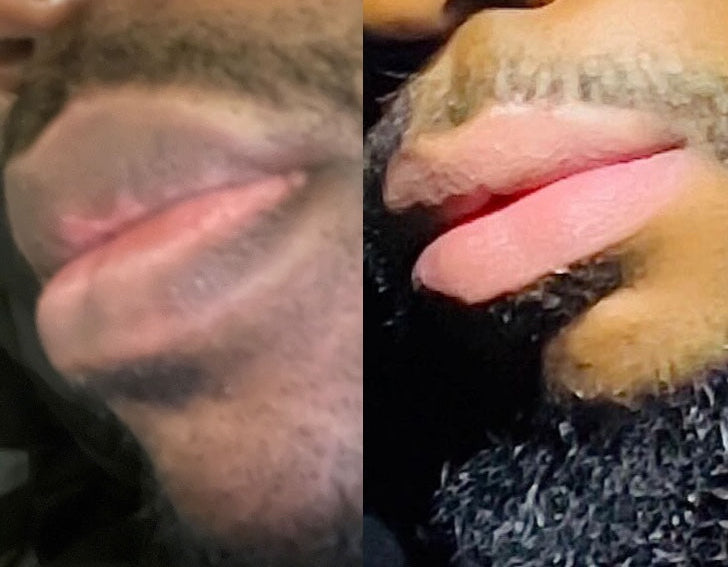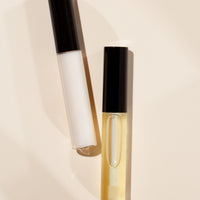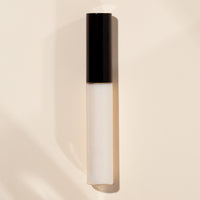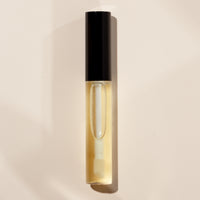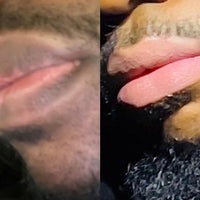 Men's Lip Lightener for (Dark & Damaged Lips)
Our advanced lip lightening oil is specially designed to remove stains and discoloration caused by nicotine, caffeine, alcohol, and other factors. Its powerful formula penetrates deep into the lips to break down and remove the pigments that cause discoloration, leaving your lips looking brighter, smoother, and more vibrant.

With regular use, our stronger advanced lip lightening oil can help to:

- Remove dark stains and discoloration caused by nicotine and other factors
- Enhance natural lip color and texture
- Moisturize and nourish dry, damaged lips
- Improve overall lip health and appearance

We take pride in our products and only use high-quality ingredients that are gentle, effective, and safe for all skin types. Our lip lightening oil is free from harsh chemicals, parabens, and sulfates, making it a great choice for anyone who wants to improve the health and appearance of their lips without exposing themselves to harmful toxins.

So if you're tired of hiding your dark, stained lips and want to achieve a brighter, more youthful-looking smile, try our stronger advanced lip lightening oil today and discover the difference it can make!
What it does:
 This lip lightening oil is a secret to getting luscious and lighter lips instantly. With consistent use for just three days, your lips will look more defined and brighter. Our formula is specially designed to lighten all the dark areas around your lips, including the cupid bow, upper lip, outside lip, lip/mouth corner, and lower lip. You can say goodbye to the dark lip line and smoker stained lips as well. Our formula also gently exfoliates without causing any irritation, leaving your lips soft and younger-looking. Not only does it lighten, but it also brightens and enhances your lips. Moisturize and contour your lips to get that seductive appeal.
Instructions:

1. Before going to bed every night, use a soap cloth to wipe your lips clean.
2. Apply a small amount of lip oil onto your lips and rub them together.
3. Follow it up by applying lip cream.
4. During the day, apply lip cream as and when needed for best results.

Due to stock availability, the bottle packaging of the product may vary while the quantity remains the same.
 Also includes  Sweet Almond Oil, Sunflower oil, Shea butter and Mango butter
which
moisturizes and heals the lips while Vitamin A, C and E helps in lightening them without a glossy shine.
Support Skin Recovery
Maintain Skin Firmness and Elasticity
Even Skin Tone + Texture
Due to COVID – 19 restrictions, product exchanges are prohibited.

If you receive an item that is broken or damaged, you may contact customer service within 7 days of your receipt date for a replacement. Items will not be replaced after 7 days of your receipt date. Please contact customer service at customerservice@rightbymen.com and we will respond with the appropriate return instructions.

Refund Policy

If you are not fully satisfied with the product, please contact customer service at customerservice@rightbymen.com
Best product ever , my lips used to be black due to smoking 🚬, this products work wonder on my lips hopefully they don't change the ingredients will definitely buy again ……
Verified
I ran out of my lib balm a few days ago and I wanted to try something new. I live chatted Right by Men to ask if they could expedite an order and ship it overnight. I needed it the next day because I had already scheduled movers to move out of my grandma's house. They were able to expedite my order (for free as a courtesy too). I received it on time in perfect packaging.
This lightener is really good. The applying tool is easy to use on my lips. I talk on the phone a lot all day and my lips dry out all the time. My boyfriend Jabari has complimented me everyday on how much better my lips look (color and texture). The first time he wanted my reaction, he asked "Do you like it or do you love it?" I love it! I'm going to buy more for Christmas for me and Jabari.
-Aldo, typed on my daddy phone
I'm seeing slight results.
I have been using this product diligently and I can see slight results. I will give it a few more weeks and update. I was expecting mind blowing results, but it's still early.