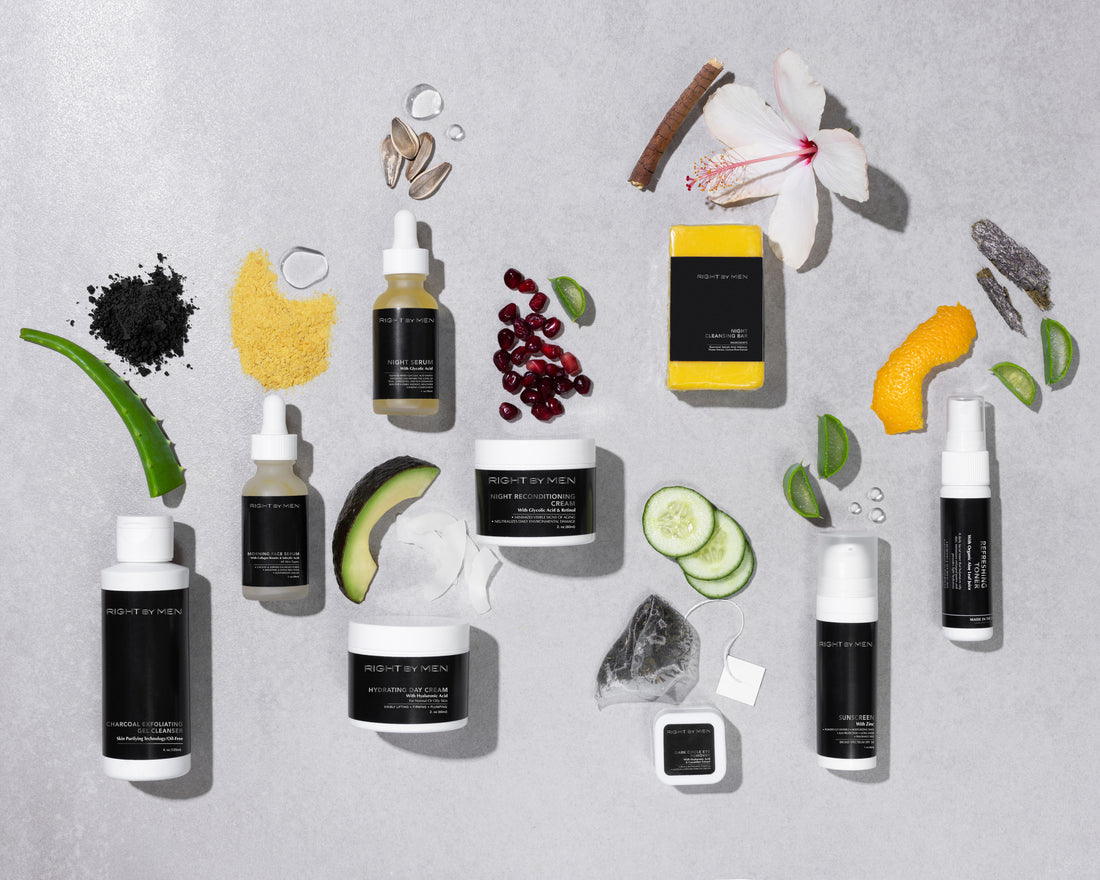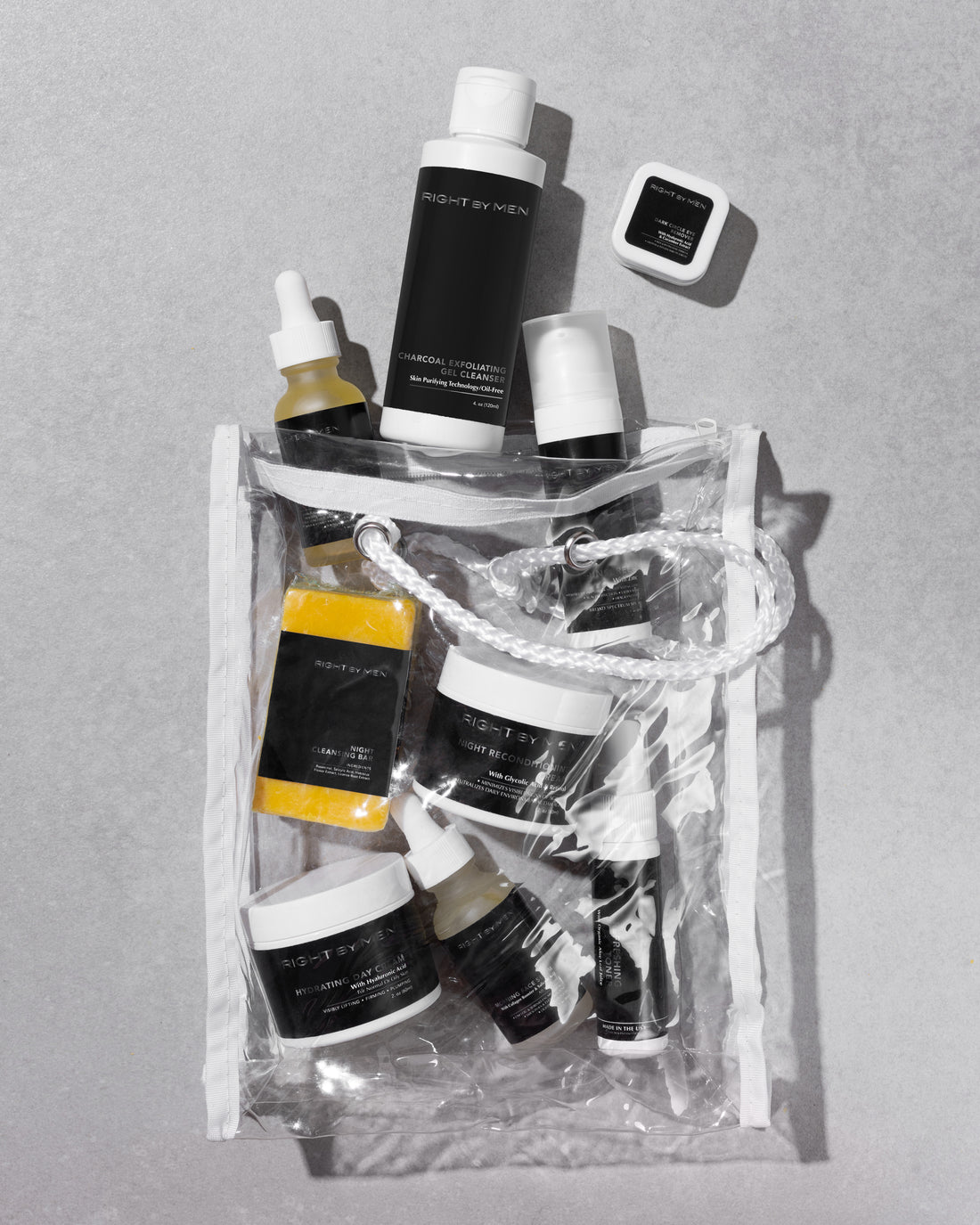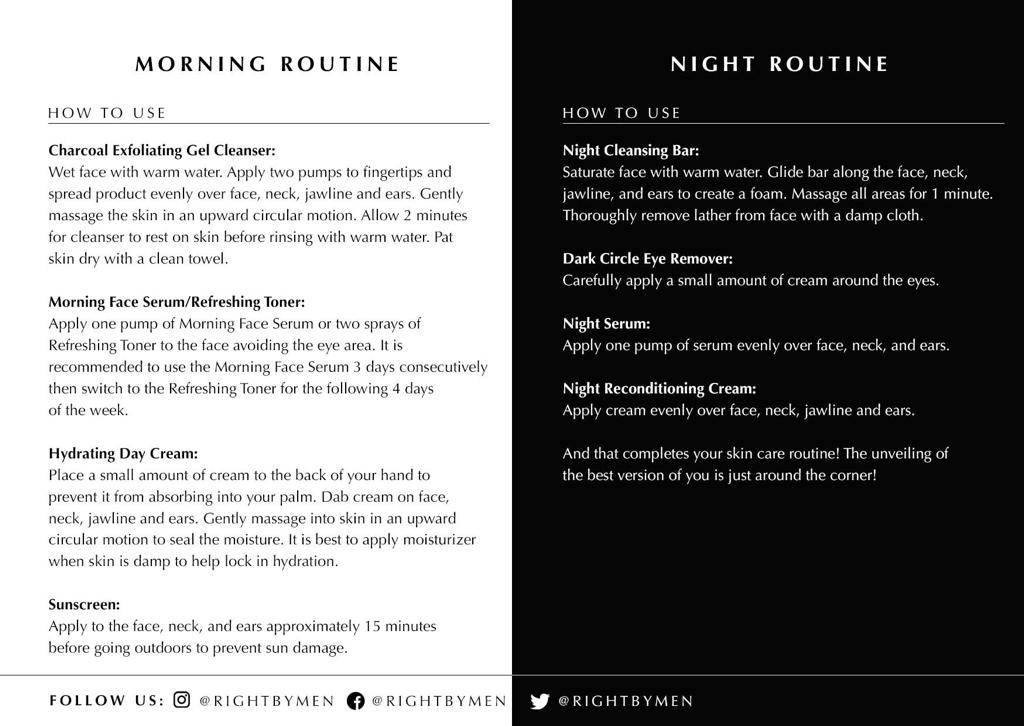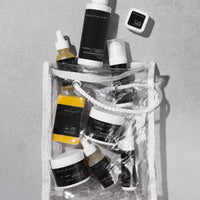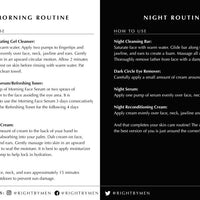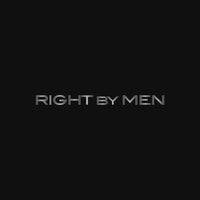 Say hello to radiant skin all season long with The Right By Men Facial Collection. It allows your skin to renew itself naturally as it heals acne, acne scars, dark circles, dryness, enlarged pores, oily skin, razor bumps, redness, sensitive skin, and other complex skin issues. It repairs the ripple effects caused by sun damage, reverses multiple signs of aging, like dark spots, discoloration, and hyperpigmentation, tightens and firms sagging skin, and diminishes wrinkles, fine lines and imperfections in no time. When you help your skin to shine, it allows you to shine! This powerful tool, Right By Men, will ensure that your first impression won't be your last!
Let your skin define your age and not the years with this all-natural, hypoallergenic, fragrance-free collection specially designed to cater to men, but women also achieve a brighter, healthier look. Who needs makeup when you can glow naturally? Right By Men's nine products work hand in hand to support skin recovery, maintain skin firmness and elasticity, and even skin tone and texture. With testimonies across the globe and untouched photos alongside to prove it, Right By Men is taking all skin tones and types to the next level, from young teens to mature adults. This awe-inspiring inclusive skincare line is not only changing skin but changing LIVES!
If you look out for your skin, it looks out for you. Actual results appear in just a week as it firms, hydrates, lifts, strengthens, and protects your skin. The potent active ingredients, nutrients, and vitamins nourish your skin to restore and revitalize your youthful luster, leaving your skin feeling smooth as silk. The collection will last 90 days because a little squeeze goes a long way to regenerate your skin. Protect your skin and fight the signs of aging twice a day. The road to youthful skin begins with a few easy steps that make you shine and feel like a leader in any industry. Right By Men Rolls Out Rejuvenating Radiance!
PLEASE NOTE: THE CHARCOAL EXFOLIATING GEL CLEANSER MAY NOT BE AVAILABLE AND THIS WILL BE REPLACED WITH ANOTHER 'NIGHT BAR SOAP '. 
This Collection includes:
4 oz Day Wash 
1 Night Bar Soap
1 oz Morning Toner
1 oz Morning Face Vitamin
1 oz Night Serum
2 oz Amazing Day Moisturizer

2 oz Night Cream
1 oz Sunscreen 
10ml Dark Eye Circle Remover
Ingredients
Facial Collection
Day Wash - Aloe vera juice, Cocamidopropyl Betaine, Activated Charcoal. Purified Deionized Water. Cornflower Extract. Vitamin C & Vitamin E
Bar Soap - Glutathione, kojic acid, arbutin, savannah fruit contains a lot of vitamins are some of the key skin whitening ingredients that make these soaps so effective. Glow Skin Enhancement only mix skin lightening soaps that contain naturally derived whiteners. No chemicals.
Morning Toner - Organic Aloe Leaf Juice (Aloe Barbadensis, Orange Peel Extract Citrus Sinensis, Organic White Willow Bark Extract Salix Alba Tea Tree Leaf Oil (Melaleuca Alternifolia, Ferulic acid, hydrogenated lecithin, oleic acid, linolenic acid, Cucurbita pepo seed extract, licorice root, beetroot oil, evening primrose oil, carnosine
Morning Face Vitamin - Collagen Booster Distilled Water Sodium Hyaluronate Salicylic Acid Sodium Hydroxide Glutathione Vegetable Glycerin Dimethicone Hydrolyzed Collagen Glycolic Acid Vitamin C & E, Mixed Yeast Extract
Night Serum - Glycolic Acid Butylene Gluconate Ascorbic Acid Chitosan Propyl Gallate Nonoxynol-10 Lecithin Tocopherol Magnesium Ascorbyl Phosphate Amylopectin/Glycerin Crosspolymer Chitosan PCA Allantoin Polyquaternium-10 PPG-Castor Aqua/ Water Linhamantes Glycolic Sunflower Seed Oil.
Day Cream - Distilled Water (Aqua), Jojoba (Simmondsia Chinensis), Seed Oil, Lactobacillus/Kelp Ferment Filtrate, Hydroxyethyl Acrylate/Sodium Acryloyldimethyl Taurate Copolymer, Squalane, Polysorbate 60,Sorbitol, Butylene Glycol, Glyceryl Stearate, Cetyl Alcohol, C14-22 Alcohols, C12-20 Alkyl Glucoside, Stearyl Alcohol, Sesame (Sesamum indicum) Seed Oil, Sweet Almond (Prunus amygdalus Dulcis) Seed Oil, Avocado (Persea gratis sima) Oil, Pomegranate (Punica granatum) Seed Oil, Rosehip (Rosaaffinis rubiginose) Seed Oil, Hydrolyzed Collagen, Laminaria Japonica Extract, Gotu Kola (Centella Asiatica) Extract, Carnosine (L-), Ceramides, Aloe Vera Polysaccharides (Aloe barb adenosis Leaf Extract), Indian Frankincense (Boswellia serrata) Extract, Coconut (Cocos nucifera) Endosperm, Hyaluronic Acid, Copper Peptide (Copper Tripeptide-1,GHK), Glycerol, Epidermal Growth Factor (RH-Oligopeptide-1, EGF), Tocotrienols, Alpha-D-Tocopherol (Vitamin E), Astaxanthin, Lycopene, Lutein, Alpha Lipoic Acid, Beta-Carotene, Citric Acid, Xanthan Gum, Potassium Sorbate and Caprylyl Glycol.
Night Cream - Glycolic Acid, Kojic Acid, Retinol, MSM, Organic Licorice, Organic Pomegranate, Organic Hemp, Organic Nucifera, Organic Avena Sativa, Organic, Organic Laminaria Ochroleuca Extract, Aqua, Tocotrienols, Ethyl Alcohol, Caprylyl Glycol, Cyclopentasiloxane, Dimethiconol, Propylene Glycol, Stearic Acid, Cetyl Alcohol, Glyceryl Stearate, Dimethicone, Carbomer, Methylparaben, Disodium EDTA, Triethanolamine, Tocopheryl Acetate, Lecithin, Aloe Vera, Fragrance, Vitamin A, Vitamin C & Vitamin B3 (niacin)
Sunscreen - Octinoxate 7.5% Titanium, Zinc, Dioxide 20% Purified Water Aloe Leaf Juice Olive Squalane Capric/Caprylic Triglycerides Emulsifying Wax
✓ Acne
✓ Acne Scars
✓ Blackheads
✓ Blemish
✓ Brightening
✓ Dark Marks
✓ Dark Spots
✓ Discoloration
✓ Dry Skin
✓ Fatigue/Radiance
✓ Irritation & Redness
✓ Large Pores
✓ Lines & Wrinkles
✓ Lifting & Firming
✓ Hyperpigmentation
✓ Hydration
✓ Razor Bumps
✓ Sensitive Skin
✓ Sun Protection
✓ Oily Skin
✓ Uneven Tone
Support Skin Recovery
Maintain Skin Firmness and Elasticity
Even Skin Tone + Texture
Due to COVID – 19 restrictions, product exchanges are prohibited.

If you receive an item that is broken or damaged, you may contact customer service within 7 days of your receipt date for a replacement. Items will not be replaced after 7 days of your receipt date. Please contact customer service at customerservice@rightbymen.com and we will respond with the appropriate return instructions.

Refund Policy

If you are not fully satisfied with the product, please contact customer service at customerservice@rightbymen.com
designed to restore, rejuvenate and maintain your skin.
Right By Men is a comprehensive line of clinically proven all-natural skincare products designed to restore, rejuvenate, and maintain your skin. In a market saturated with skincare targeted towards female consumers, Right By Men provides essential education for men lacking basic skincare knowledge. These lightweight formulas with a few easy steps that apply in minutes will make you glow and feel like a leader in any industry.

Right By Men treats severe cases of acne, dark spots, discoloration, hyperpigmentation, enlarged pores, oily skin, razor bumps, redness, and scars. Celebrities and influencers alike endorse the most effective natural anti-aging product revitalizing healthier, younger-looking skin for years to come. 



Needs better packaging
I love the product. Very great on my skin. However the packaging is very inconsistent. The bottles sizes vary by shipment (sometimes they are smaller than what I received the time before) it leaves me questioning if I am getting my monies worth of product every time. Also in general—with all the money it costs, I think you could get better packaging. Glass bottles versus plastic. The labels come off. My last shipment—the sunscreen came opened and was all over the product. I had to throw it away and didn't get to use it. I have photos of it and also a photo of how the bottle sizes differ from the shipment before.
Right by men
1 week results I love this for my skin …
Works wonders for my boyfriend's oily skin
I bought this collection for my boyfriend JJ. I was hesitant at first because it's more than I usually spend on skin care items (even for myself), but it is so worth it. My boyfriend loves it. I wish I bought it for me instead.
My boyfriend naturally has oily skin and he frequently rubs coconut oil on his skin. That makes it more oily. This collection has been a life changing for JJ.
He uses the morning and night routine products every day and has tossed out all of the ineffective skin care products he used before.
I'm saving up money to buy my own skin care products from here.
Simple and effective skin care
I love how simple the skin care routine is for day and night. It saves me time for my busy day. 100% recommend men try this skin care routine.
Best Face regimen!
I've been using Right By Men for 2 1/2 months now and the amount of trust I have for my these products and my skin now is insane. They gave me a new love for my skin. I no longer worry about freak breakouts because they usually disappear within the day now. Dark marks don't even exist.