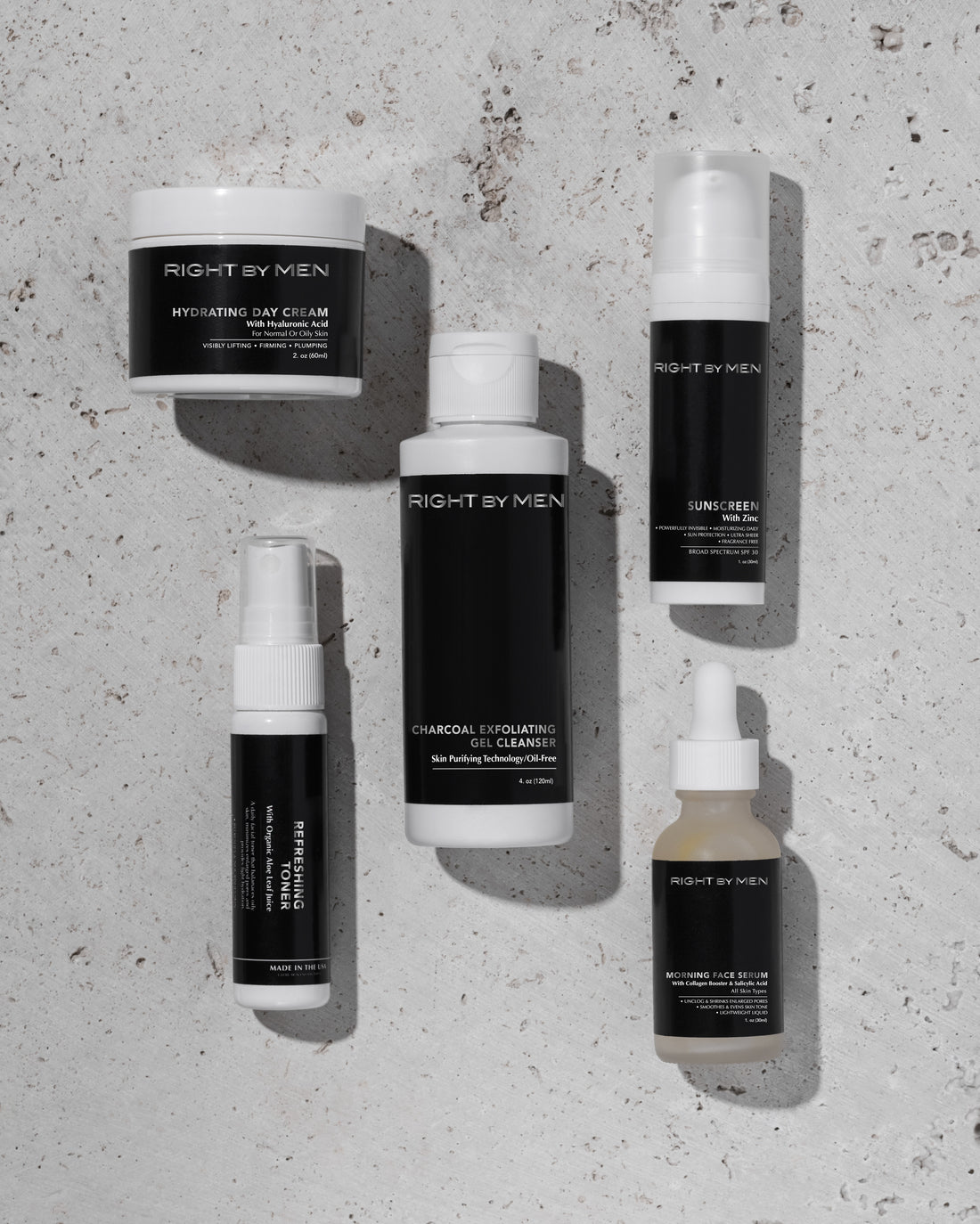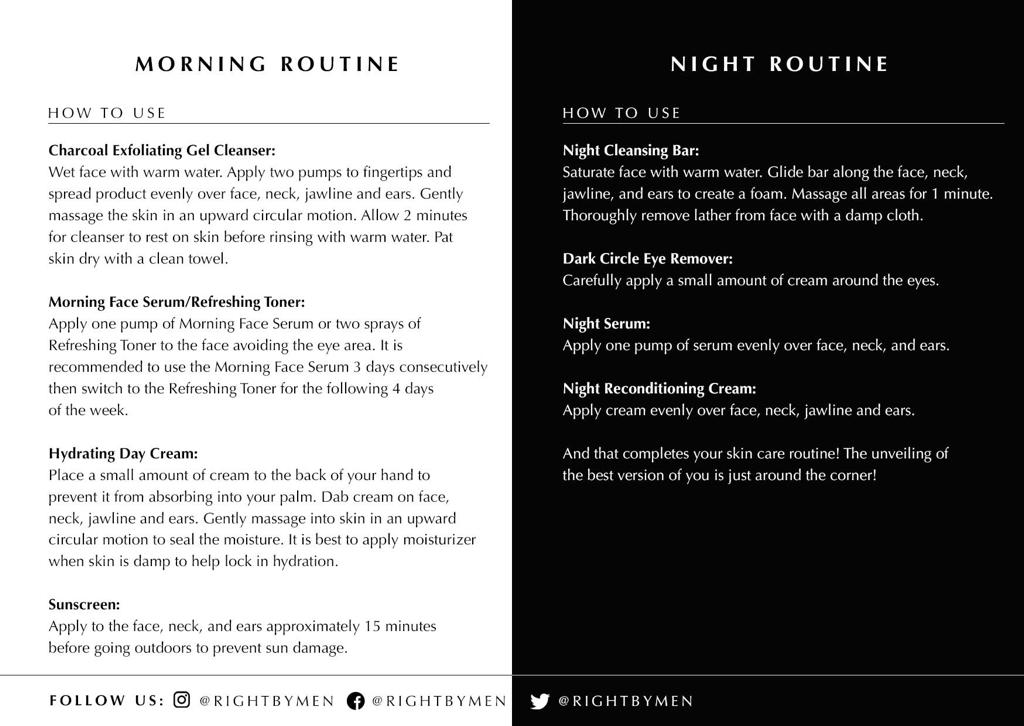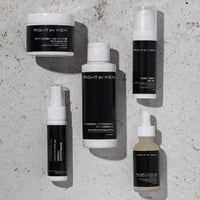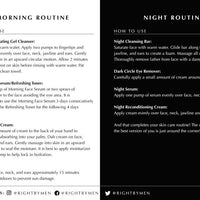 Morning Routine Set (For Dry Skin)
Introducing our Morning Routine set from our facial collection - now available as its own set for customers specifically looking to enhance their morning skincare routine. Our set is designed to cleanse, freshen, moisturize, and protect your skin throughout the entire day. The set includes a Charcoal Exfoliating Gel Cleanser, Refreshing Toner, Morning Serum, Hydrating Day Cream, and Sunscreen - everything you need to start your day and keep your skin healthy and glowing. With an easy 4-step regime, you'll fall in love with your results from the very first day, thanks to our all-natural organic ingredients. You can trust in the quality of Right By Men.
Charcoal Exfoliating Gel Cleanser - Aloe vera juice, Cocamidopropyl Betaine, Activated Charcoal. Purified Deionized Water. Cornflower Extract. Vitamin C & Vitamin E
Refreshing Toner - Organic Aloe Leaf Juice (Aloe Barbadensis, Orange Peel Extract Citrus Sinensis, Organic White Willow Bark Extract Salix Alba Tea Tree Leaf Oil (Melaleuca Alternifolia, Ferulic acid, hydrogenated lecithin, oleic acid, linolenic acid, Cucurbita pepo seed extract, licorice root, beetroot oil, evening primrose oil, carnosine
Morning Face Serum - Collagen Booster Distilled Water Sodium Hyaluronate Salicylic Acid Sodium Hydroxide Glutathione Vegetable Glycerin Dimethicone Hydrolyzed Collagen Glycolic Acid Vitamin C & E, Mixed Yeast Extract
Hydrating Day Cream - Distilled Water (Aqua), Jojoba (Simmondsia Chinensis), Seed Oil, Lactobacillus/Kelp Ferment Filtrate, Hydroxyethyl Acrylate/Sodium Acryloyldimethyl Taurate Copolymer, Squalane, Polysorbate 60,Sorbitol, Butylene Glycol, Glyceryl Stearate, Cetyl Alcohol, C14-22 Alcohols, C12-20 Alkyl Glucoside, Stearyl Alcohol, Sesame (Sesamum indicum) Seed Oil, Sweet Almond (Prunus amygdalus Dulcis) Seed Oil, Avocado (Persea gratis sima) Oil, Pomegranate (Punica granatum) Seed Oil, Rosehip (Rosaaffinis rubiginose) Seed Oil, Hydrolyzed Collagen, Laminaria Japonica Extract, Gotu Kola (Centella Asiatica) Extract, Carnosine (L-), Ceramides, Aloe Vera Polysaccharides (Aloe barb adenosis Leaf Extract), Indian Frankincense (Boswellia serrata) Extract, Coconut (Cocos nucifera) Endosperm, Hyaluronic Acid, Copper Peptide (Copper Tripeptide-1,GHK), Glycerol, Epidermal Growth Factor (RH-Oligopeptide-1, EGF), Tocotrienols, Alpha-D-Tocopherol (Vitamin E), Astaxanthin, Lycopene, Lutein, Alpha Lipoic Acid, Beta-Carotene, Citric Acid, Xanthan Gum, Potassium Sorbate and Caprylyl Glycol.
Sunscreen - Octinoxate 7.5% Titanium, Zinc, Dioxide 20% Purified Water Aloe Leaf Juice Olive Squalane Capric/Caprylic Triglycerides Emulsifying Wax
Support Skin Recovery
Maintain Skin Firmness and Elasticity
Even Skin Tone + Texture
Due to COVID – 19 restrictions, product exchanges are prohibited.

If you receive an item that is broken or damaged, you may contact customer service within 7 days of your receipt date for a replacement. Items will not be replaced after 7 days of your receipt date. Please contact customer service at customerservice@rightbymen.com and we will respond with the appropriate return instructions.

Refund Policy

If you are not fully satisfied with the product, please contact customer service at customerservice@rightbymen.com
for your health & wellness
Check Out The Benefits Of Use
✓ Mineralize the body
✓ Oxygenate the blood
✓ Chelate toxic or inorganic metals and chemicals, as well as essential major and trace elements
✓ Repair, regenerate, and restore cells (including skin and nails)
✓ Acquire electrolytes and other vital elements
✓ Regulate and supercharge the immune system
✓ Improve brain function (including memory)
✓ Catalyze enzymes
✓ Improve circulation
✓ Increase endurance
✓ Produce energy (ATP)
✓ Balance cell life
✓ Structure hormones
✓ Control inflammation
✓ Stimulate metabolism
✓ Revitalize libido (desire and function)
✓ Cleanse, neutralize, and remove toxins
✓ Regulate the thyroid and thymus glands
✓ Assimilate macro- and micro-elements
✓ Protect against unnatural oxidation
✓ Maintain optimum alkalinity (pH) levels
✓ Break down complex nutrients, elements, and other substances for easier absorption or elimination



energize hydrate